The Beginning of Virginia International Raceway - 1956
Please send me e-mail with any additional info on this or any other VIR History topic
Click on any photo to see a larger version
---
VIR'S ORIGINAL DEVELOPERS REMEMBER TRACK CONSTRUCTION
BY PHIL ALLEN, 12/01 (last revision 3/07)

On August 15, 1956 a small group met to hold a press conference at a remote farm located on the banks of the Dan River near Milton, North Carolina. Their purpose was to announce the building of a racetrack unlike anything ever seen in the heart of stock car racing country. They announced plans for a road course for sports cars, far different from the high-banked oval courses being constructed for stock car racing throughout the South. At that time there were only two permanent road courses in America and they were located in Elkhart Lake, Wisconsin and Watkins Glen, New York. Most sports car races in America had their beginnings on public roads and were currently being run on airport runways.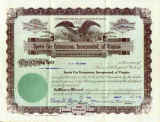 The group meeting that day had formed a corporation and sold stock as Sports Car Enterprises of Virginia, Inc. SCCA racer Ed Welch of Winston Salem, N.C. was president of the corporation. His announcement stated that the purpose in building the track was to "set up major sports car races in this part of the country" and that major international events sanctioned by the FIA would soon be on the schedule.
Welch recalled the early days in a recent interview. "I started hill climbing in 1953 or 1954. We raced at Pilot Mountain, Grandfather Mountain, and Chimney Rock. I ran a lot, driving a Healy and then a Jaguar. We would drive our cars to the track and then race them. Other than the hill climbs, most SCCA races were run on airport courses. I recall going to Columbia, S.C. Several of us formed a club based out of Alexander-Mann Motors in Greensboro"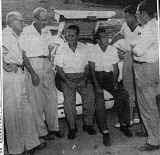 The other officers of the corporation were members of that same club which came to be called The Sports Car Club of North Carolina. In addition to Ed Welch as president, club member R.G."Dick" Snyder of Martinsville, Va. served as corporate vice president and Dr.Hooper Johnson of Winston Salem was secretary-treasurer. The chairman of the board of directors was Ed Kemm. Photo - John Foote, Jay Foote, Dick Snyder, Ed Welch, Hooper Johnson, Ed Kemm
Ed Alexander, co-owner of Alexander-Mann Motors recalls the formation of the club. "My father and I were in the automobile business in Greensboro. We sold MG, Austin Healy, Jaguar, Alfa Romeo, and Porsche. Quite a few sports car owners would hang around our dealership. We started a club that met regularly at the dealership. As we became more organized, we realized that we needed a place to race. We were having gymkhanas and other events anywhere we could find, from gravel pits to hill climbs. We decided to build a racetrack. One of our club members, George Arnold knew John and Jay Foote of Milton, N.C. who had a 1200-acre farm that had been placed in the soil bank program and might be available. The Foote brothers leased us the property for next to nothing. The club members bought stock and we had maybe 25 or 30 thousand dollars. My dad and I had put up about $10,000 of that. Most of us considered the money invested to be a donation and never really expected to get it back. Ed Welch and Hooper Johnson went up there and had a bulldozer guy follow them around while they laid out the track. When we were ready to pave the track we needed a lot more money so a new club member Ed Kemm came in and paid for the remainder of the paving and construction. We got out of it."
Club member George Arnold was married to Preston Foote, whose father Jay co-owned the farm with his twin brother, John. Preston prevailed upon her father and uncle to lease the land to the club. Both George and Preston Arnold were early sports car fans.
Arnold explained his connection with the Greensboro club in a recent interview. "I had raced in the New England area when we lived up there. I had a MG TC and then a TD and was very much involved with the SCCA. Those were the greatest days. We could drive our cars to the race and run them. Afterward, we would put the car back together and drive it home. There weren't many races we didn't get to. After we moved to North Carolina, I had an Austin Healy and Preston had a TR-3. I got acquainted with Hooper Johnson and the others over in Winston Salem . We were going to races in Walterboro, S.C. and Cumberland, Md. There were no tracks in between. One night several of us were sitting around talking and I mentioned that my father-in-law had a lot of land that was not being used that would be a good location for a track. Everyone suggested that I talk to him so I did. Ed Welch and Hooper Johnson and I went up and we walked through the grass to mark the track for the bulldozers and road graders. Later one of the farm workers hooked a mowing machine to a tractor to preserve the outline we had marked. I recall Thompson-Arthur paving company being involved because I remember seeing Mr. Thompson up there in his big Cadillac"
Dr. Hooper Johnson was very much involved in the early stages of planning and construction. He recalls quite a few details today. "The club members were looking for a place to build a track. George Arnold said he knew of a place that was not being used. He brought us some aerial photographs of the Foote farm up in Milton. I sat down at a table in the dining room at Baptist Hospital and sketched out where I thought the track should go. One of the doctors, Jesse Meridith knew a couple of road grading contractors, Horace and Harry Strickland from near his hometown of Mount Airy. They actually lived over in Virginia at Fancy Gap. Ed Welch, George Arnold and I took them up to the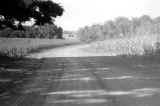 farm and drove through the grass to show them where the track should go. Dick Snyder was there with his Mercedes 300SL and we used the turning radius of his car to mark the radius of the horseshoe turn at the end of the front straight. The turning radius of the Strickland brothers' road grader was used to set the radius of Oak Tree turn. After they did the rough grading we would take our cars up there on weekends and run around on the dirt at up to 100 mph. We found one place where the cars would get airborne so Horace just took his grader and shaved off enough dirt to correct the problem. We became concerned about the drainage around the track so we waited for a big rainy spell and went up there and corrected the problems we saw.
Some local public highway engineers had told us the kind of mix of sand and gravel we needed to put down for a base and it was going to be expensive to buy enough to cover 3.27 miles. The Stricklands came up with a solution. Horace and Harry were a couple of "big ole country boys". They came down from Fancy Gap with their workers and camped out in the big barn on the farm during the week and went home on weekends. One day they called me and said 'Doc, you've got to come up here and see this. We need gravel? The whole river is full of gravel!' It seems they went down to the river to bathe and discovered the whole riverbed was full of gravel. They just backed down to the river and got all we needed. Didn't cost us a nickel!"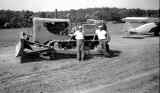 Johnson is full of praise for the Stricklands." On our opening weekend the guys who built Elkhart Lake came down from Wisconsin to see what we had done. We had been up there the year before to get some ideas on how thick to pave in the turns and all that stuff. We took notes on a piece of scrap paper and came home and started paving. Those guys wanted to see all our plots and graphs that the engineers had done. They said you need all that to build a track. I pointed to the Stricklands and said there are no drawings or engineers. Just ask these guys."
By the summer of 1956 the original group had completed everything but the paving. The Strickland brothers brought in a paving company from Greensboro that they had worked with before but a major obstacle stood in the way. The pavers wanted $8,000 before they would bring their equipment to the job. With the end in sight, the developers needed more cash than they had readily available to finish the job. A new club member, Ed Kemm had recently moved to Greensboro from New York and had both the cash and the enthusiasm to finish the job. The officers of the corporation quickly gave him a tour of the site and made him chairman of the board. Hooper Johnson remembers that Ed Welch commented after Kemm decided to invest, "Hooper, that's the first good night's sleep I've had in a year!"
With Kemm supplying the needed capital, the paving and remaining construction resumed after the August 15, 1956 press conference. Contacted recently at his home in South Carolina, Kemm explained how he became involved. Originally from New York, he had met his wife Gail through a prep school roommate at Exeter who was from Greensboro.
Kemm says " I enrolled at UNC in Chapel Hill and we were married in 1953. By 1954 or 1955 we had moved to Greensboro where I bought a Jaguar from Alexander Motors and became involved with the sports car club that was formed at the dealership. I was very active and later served as both President and Director. The club had planned to develop a race course much like the one they had at Marlboro, Md. for club events. Hooper Johnson and Ed Welch were both racers. They were most instrumental in deciding to build a track. Ed Alexander had an interest because of his automobile dealership. One day after I became involved we were discussing the project. It had gotten out of hand and they just did not have the money to go on. I agreed to underwrite it and the leases were transferred from Sports Car Enterprises Incorporated to my corporation, Virginia International Raceway Incorporated. A group of investors and friends of mine had a private sale of stock. There were about 25 of us. I guess I owned about 80%. The investment looked good at the time because Congress had shut down all of the racing that General Curtis Lemay had promoted on the Air Force bases and there was a tremendous demand for road courses."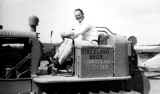 Ed and Gail Kemm moved to Danville in 1957 and he began to work on the project full time. He found the project to be a challenge. "A bulldozer had done the initial grading but the track needed a lot of work before paving. The Strickland brothers were on the job but there wasn't even enough money left to finish paying them. They were the original 'Beverly Hillbillies' with bulldozers. The biggest asset on the job was the river gravel that they had found. The cost of buying enough gravel to cover 3.27 miles would have been prohibitive. It wasn't really gravel but was a very high grade of river sand with gravel mixed in. It alone would not have been able to stabilize the base. We mixed the original soil with the river gravel and dry cement to provide the base. My wife and I had gone to Elkhart Lake before we started the project and spent two weeks when they first opened so that I could go over their trials and tribulations in hopes of not duplicating their mistakes. We also visited Watkins Glen, Bridgehampton, and Lime Rock for the same reason."
The actual construction and paving was scheduled for completion in time for a SCCA race on May 4th and 5th, 1957. Kemm explains the reasons that the opening was not on schedule. "That winter we had terrible rains. The stability to bring in paving equipment just wasn't there. The track had to be dried out and rolled. There would have been a problem with the moisture content and the binder that Thompson-Arthur Paving Company used. The actual paving did not take place until May of 1957. There were time trials held on July 20, 1957 but no actual racing took place before the August 3-4 1957 inaugural race. The cost of paving the track was substantially more than $8,000. Even at 1957 prices 3.27 miles is a lot of asphalt. The total construction costs were close to $160,000 plus whatever amount the club had spent before I took over.
Johnny Foote, son of owner John Foote worked for a time with the construction crew. In a recent telephone interview from his home in New Jersey, he tells of the Foote family's involvement in the construction.
"I had graduated in the spring from VPI and was waiting for my class to start in the Air Force flight school. While I was home I worked with the crew on the track. We used a lot of farm labor to finish the job. By the time the first race was held, I had left for my flight training. I do remember driving around the track after it was paved in Ed Kemm's Jaguar.
The inaugural race was held on the weekend of August 3-4 of 1957, almost a year after the first press conference. After the opening, Kemm's role as developer changed to race promoter. There he met new challenges
Ed Kemm congratulates Carroll Shelby,
winner of the August 1957 feature race.
Kemm sys - "Initially VIR received lots of publicity because it was so unique. We had 10,000 to 12,000 spectators the first year, but I found it difficult to build a fan base the way NASCAR did. We were having to educate the public to what we were doing. Anytime you get into a business where you have to educate the public; you had better get out fast. VIR was probably 15 to 20 years ahead of its time. Bill France came by to take a look and told me that until the fans could see the whole track and get close enough to smell it you would have a problem. One key element was that the general public could not identify themselves with the cars. The entire concept was a problem in those days. It was strictly a club-type affair. There was no happy medium between the professional promoter and the club course concept. The club course was great socially but could not support the financial investment we had. There was no set-up in sports car racing that was professional in nature. There was lots of resistance from the top. We needed a professional racing series to attract the size crowds we needed. I talked to the SCCA and told them you fellas should really consider our needs. They were adamant and said that they were not going to go that route. I even went to Indianapolis and talked to Tony Hulman and Duane Carter about a professional USAC sports car series. USAC was very much interested in developing professional sports car racing."
Kemm was not the only promoter or racer confronting the same problem in the late 1950's. Prominent drivers such as Dan Gurney, Phil Hill, Augie Pabst, Bob Holbert and Carroll Shelby were attempting to make a living through racing and finding themselves fighting the same battle. The SCCA resistance was so strong that drivers who participated in professional races were threatened with withdrawal of their SCCA licenses. The turning point came when USAC launched their professional sports car division in 1958. Races were held that year at Lime Rock, Marlboro, Watkins Glen, and Riverside. The USAC series expanded and operated successfully from 1958 through 1963. Promoters from coast to coast were able to attract crowds numbering from 50,000 up to 75,000. These successes forced the SCCA to back down and reconsider professional sports car racing. The United States Road Racing Championship (USRRC) began in 1963 and other series were added in the late 1960's. All of these victories came too late for Kemm. He had been facing other serious problems from the beginning.
He explained. "My biggest problem was always the labor pool. There were never enough people available to put on a race. The more club people you had involved, the fewer paying spectators. Everyone was a participant. After two or three years, I began to see what was happening. We were back to square one and the sport had not gone beyond the club mentality. The track did not lend itself to be a financially viable operation"
In an attempt to solve the manpower problem, Kemm recruited local charitable organizations as sponsors who were able to provide people to staff the race in exchange for having a portion of the proceeds donated to the charity. The May of 1959 SCCA Nationals were sponsored by the Danville Shrine Club. The April 1960 Nationals were sponsored by the Danville chapter of the Civil Air Patrol commanded by Col. E. Paul Rembold. Kemm had a strong interest in the CAP. " When we first moved to Danville, I decided that I wanted to learn to fly. I took lessons from Paul Rembold and he got me involved in the Civil Air Patrol. I became a very active member. I bought a Piper J-3 and another airplane and flew a lot to build time." Rembold also allowed Kemm to use office space in his aviation business for VIR's office.
What had started as an exciting challenge for Kemm finally became too much of a problem for him to continue. He donated the leases and his interests in the assets of the corporation to the Civil Air Patrol and moved to Baltimore where he operated several successful businesses until he retired and moved to South Carolina in 1988.
The Civil Air Patrol with Col. Rembold at the helm operated the track until the fall of 1974 when the track closed until it was reopened in 2000 by the current operators, Harvey Siegel and Connie Nyholm.
Since August of 1957, thousands of racers and fans have enjoyed the creation of a small group of people who had both the vision and determination to build and operate what became a favorite of the racing world. Ed Alexander formed a sports car club when few people in the area could describe a sports car. George Arnold, due to the influence of his wife Preston Foote, was able to locate one of the most scenic and ideal properties in the country. Ed Welch and Hooper Johnson designed a course that brought out the best features of that farm. Ed Kemm brought the financing to complete the dream and the determination to make it a reality.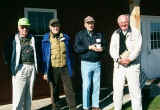 October 2001 reunion at VIR - Hooper Johnson, George Arnold, Ed Welch, Ed Alexander
Please send me e-mail with any additional info on this or any other VIR History topic
Click on any photo to see a larger version