"Hi; I am at work and it's a slow day so I did a search of AAMRR. I was so pleased to find your site! I was a score keeper and did registration for AAMRR from around 1969-74 or 75. My friend Mary Menard and I would get the bikes lined up for each race and write their numbers down as they zoomed past us. We'd figure the results. We had a wonderful time. I was truly a road racing groupie back in the day. I was a high school art teacher in the early 70's and had lots of boy students into dirt bikes. I would bring in pictures of the races and the kids couldn't believe such bikes existed. I am so pleased to see the beautiful bikes on the road now...my step-son is riding a very nice Yamaha "Crotch Rocket". It is great to see so many ladies driving bikes now too. In my motor cycle racing days the only lady I saw race was Carter Aslop (I think that was her name) and she was good. Some names I remember; Davis Nees, Jim Walsh, Jan Jolles. I have some photos I have saved. Again, you made my day.
June Smith-Williams
June Smith from Kutztown, Pa. in the late 60's and Towanda, Pa. in the early 70's."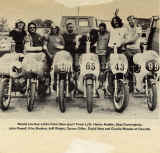 VIR 1972? - Harlan Hadley, Skip Cunningham, John Powell, Kim Brotten, Jeff Wright, Carson Gilley, David Nees, Charlie Wheeler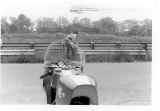 David Nees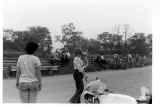 Mary Menard in the pits with her little guy Richard Lee Chambers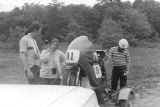 David Nees with his arm in a sling and his smashed bike. The lady he is talking to took photos of the guys racing…she did a nice job! Mary Gothe?
Probably around 1972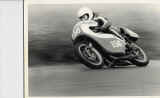 A very nice photo of David Nees racing. The lady photographer in the prior photo took this. I did a painting of it for David….date again is around 1972, I think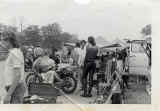 Richard Chambers, David Nees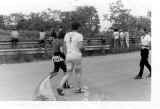 Richard Chambers walking through the pits with Burns Moore. Burns lived in Kutztown, Pa. where Mary Menard and I were going to college. We saw his bike on a trailer one day as he was getting ready to go to a race somewhere and we had to stop and ask….we had never seen such a bike. He explained it all to us and we went to a race to check it all out not long afterwards. That was in 1969 or 70….we were hooked.
Peter Maggio writes "Burns Moore lives in Easton & Richard works with the AMA and is married to Ave Gudelski's widow, Laura"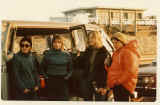 Cold week-end on Montauk Point. Probably around 1972. L to R is Patty Phelan, Mary Chambers, June Smith, and Cookie Brown.

Peter Maggio writes "Cookie Brown was a part of the Northern Virginia crowd (Hall and Harlen) drove a BMW bike and always had good chicken. She never missed a race."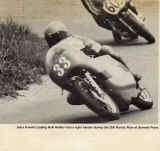 Summit Point - John Powell, Hall Hadley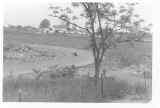 Summit Point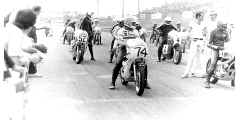 Mosport 1973
Info from Jim Allen:
#74 – "Mouse" McPherson (Hamilton, Ont)
#100 – Jim Allen (Me!)
#52 – Kurt Leibman (New Jersey)
#4 – Mandy Radbord (Montreal)