VIR - 1966 October SCCA Regional Races
"Goblin's Go"
Virginia International Raceway - October 14-15, 1966
Complete Race Results (thanks to Gordon Warren)
Photos by Roger Blanchard - click to see many more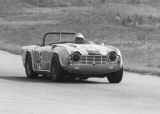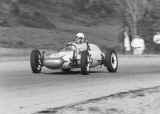 Photos by Ed Lloyd

Dick Staples
Devin Triumph

Ed Lloyd
Race Report - by John P. Foley in NC Region SCCA Bulletin -
"THE FALL FRENZY or THE 66 GOBLIN'S GO"
In the most usual and moreover traditional style the Fall Regional, or the Goblins Go, was what one might call quite a weekend. The good old "ya'll come" attitude of the North Carolina Region was never better exemplified, and for those who did come the weekend shall long be remembered. Between beautiful racing, wonderful parties, and good weather the weekend in its entirety was most enjoyable.
Friday was registration and the usual renewing of Past RE weekend aquaintances. Oh, there was excitement to be sure. For those fortunates who attended the social gathering at Whit and Bunny's room especially. Amazingly - lots of stories but not one about racing. As a suggestion to those who are interested in learning to drink a glass of water without using your hands, and yes the glass is balanced on your head, or to those who wish a translation of "Mug Womp" Language please see Whit Diggett. Another party and another set of blood shot eyes.
First of all Saturday was a beautiful day and with the exception of Dwight Grant's attempt at learning to be a farmer, by plowing up several stumps approaching Oak tree, much smooth racing was seen. Practice was very nearly flawless, for everyone except Jim Taylor who broke Robby Krofrus' California Bound Car. This car was only one of the many National cars entered in a plus Ninety Field.
The three lap novice race proved to be an exhibition of Petey Symond's CP Morgan. Pete struck on, the other followed. Jim Jefferies relenquished the wheel of the yellow bomb and Whit Diggett turned Hero Race Driver and won the F Prod Class. Al Berkeheimer should prove to be a good sedan driver. Al drove with real class all weekend for the novice race was only one of the four Al was to win. The Flying Dutchman put a little yellow tape on his Abarth 1000 but the plugs kept fouling - Doctor Paul will do better.
There are certain people who are inevitably late to a race, and then the G race is called and the machine breaks. Racing can be frustrating sometimes. I guess Dick Staples might agree. As the afternoon racing progressed everyone was aware that Bernstein was back and Teddy Krokus had a moving Lotus-7A. Pete Van Der Vate pushed an Alfa GTA to bigger and better things and moved closer to California. Johnny Williams finally found a way to get his TR - 4 running and won his first GP race.
Saturday night was reserved for socializing and being pleasant. With the Region's Party and several post Region parties a rather gay night prevailed. Again Whit and Bunny had a bash and Friday night may have to take a back seat to the Saturday night affair. Lynne had been to the Fair and everyone was enthralled. Amos Johnson and Perry Peacock were backed in a few earthy ballads by Amos Mod Pit Crew. Early in the morning everyone was poured out of the room in anticipation of a highly active Sunday.
Again Sunday was a beautiful Fall day with the temperature in the eighties. The racing again was terrific and again very nearly accident free. A far cry from the Closed Regional the month before. Henry Hutchinson ran his legs off getting Bosch Plugs in many of the cars.
The racing was very nearly a repetition of the previous day. The race of the day was between Amos Johnson in his MGB and Johnny Williams in his TR-4. Amos won the first DP race of the day and Johnny won by a scant two seconds in the 10 lap race Sunday. Victor Mathews displayed a TR-3 that goes like stink - especially in the 10 lap race.
Staples really had his problems with broken machinery. The Devin he was driving quit on the back straight during the 10 lapper. For those other G-P drivers who were hoping that the same fate might strike Bernstein's Sprite - no such luck again he swept the day. John Finger displayed a Sprite in HP that ran very strong, he too swept the day.
Monty Winkler and Pete Van Der Vate spent the day exchanging the B-Sedan lap record. The Alfa-GTA they drove is, as I've said before, California and after watching the car at VIR it is no wonder. As a matter of fact with the B16 C-Sports racing gone Monty and Pete were the only opposition to Brad Parker's Elva which was the overall winner. Brad drove his EM swiftly and late Sunday took the final flag of the 66 season at VIR.
We had a good race and wonderful time and reviewed many friendships. Race Weekends are so great we think we'll try them again next year. How about "ya'll comin."
please send me e-mail with any additional info on this or any other VIR race