VIR October 1964 Race Report
SCCA Sports Car Magazine
please send me e-mail with any additional info on this or any other VIR race
WET NE DIVISION FINISH
BY BILL KING photographs by Lynn Reid & John Ewald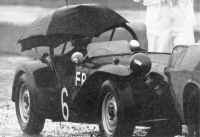 "Say, Ed (to Mr. Lowther), what do you think's the trickiest place on VIR?"
"Well," says he, "right after you leave start-finish, there's this bumpy straight; then there's a horrible hairpin to the right, a silly left and a hard, silly left that put you all out of shape for this next right that leads into a cooked spaghetti section; then you cross the access road and fishtail (making violent hand movements) and through the uphill chicane that has potholes at each apex to this reverse camber left; then the road drops out of sight and your eyeballs go right through the top of your helmet; then up the hill and around this huge oak tree onto this long straight with more bumps (shaking violently all over) that ends in a squirrelly bunch of downhill rights and lefts; then a flat sweep right with a 10 foot dropoff on the outside (turning white) back onto the pit straight. Yep, that about covers it. That's the hardest part, unless it rains...." Saturday, the weather was beautiful. Sunday, it poured.
The likes of Tullius, Jennings, and Riley kept their feet dry Sunday along with about 40 others of the 95-car entry. This and the rain poured some rather strange results in the Divisional point races.
Don Yenko's Michelin-shod Corvette made a shambles of the 11-lap feature for BP and C-GM. As the green flag dropped, Yenko blasted off the second row past Ed Lowther's CM Cobra, and that was the race. Lowther had snapped the Genie's left rear axle in practice Saturday and had talked Harold Jonnson and Bob Nagel out of the Cobra for Sunday, there not being enough cars for a class in AP. Installation of 832" Sebring wheels put the car in CM but made it a speedboat in the rain.
Yenko walked off from Bob Mouat's Corvette to win by 30 seconds going away. George Ralph followed Mouat around to put his Lola first in GM and capture a Riverside invitation. Lowther was sixth, first in CM, winning the Divisional championship.

Bob Sharp in velly fast Datsun set new VIR G Prod lap record.
A lot happened in the G & HP 11-lapper. Erwin Lorincz's Spitfire had to be pushed from the grid with a jammed starter. Bob Sharp came off the pole putting his Datsun into the lead ahead of Paul Brunk's Datsun and Henry Horne's HP Sprite that had come screaming off the fifth row. Also on the first lap, John Willes collected a course marker on the back straight, breaking his shoulder when the post came through his windshield.
As the race wore on, Sharp began to stretch out as Brunk and Horne dropped back with ignition break-up Dick Gilmartin moved his Spitfire into second and then took the lead on the 9th lap when Sharp coasted across the start-finish with a drowned engine. Gilmartin took the checker ahead of Dick Robert's Sprite, with Bob Turgeon's Sprite third, 1st in HP.
After three laps of the E & FP regatta, the race chairman started putting George Frey's name on the first place trophy. The Porsche just ran away and hid, lapping everything but Ralph William's 7A and John Luke's TR-3. Andrew Steele gave Williams some pressure for six laps, but then his Porsche misplaced a rod. The class win gave Williams the Riverside invitation ahead of Art Riley who didn't run ... the Blue Streaks scared even Art in practice.
All the CP cars went home along with Tullius, leaving Jim Ladd's Healey 3000 and Harvey Marks' TR-4 to do battle. Marks goosed it into the lead for three laps until the moisture began to get to the coil wires. Ladd slipped into the lead, and then people began to notice Jim Bolson's MGB moving rapidly past Marks on the fifth lap. The watches came out, as Bolson started catching Ladd by two seconds a lap. Ladd pushed, but his Blue Streaks were a bit too skittery. And Bolson motored by on the 10th lap to win by nine seconds.
Unfortunately for the sponsors, the best racing took place in Saturday's five-lap sprints. The D & EP race had Tullius and Marks running under a hanky all the way, with Mr. Triumph nipping Marks by a fender. Tullius set a new DP lap record in the process.
Bob Nagel wiped the boards clean in the A & BP, C-GM bash. Bill Wissell took second and CM in the DEX1, 0.6 seconds ahead of Yenko. Cordon Heald's Elva Mk. VII was 5th, first in GM.
John Kelly's Carrera took the C & FP sprint ahead of Mike Hayman's Super 7 and Riley's P-1800. In the G & HP go, Sharp (Datsun) and Nagel (Sprite) lowered lap records in winning their respective classes. Pete Van der Vate cooked Pat Mernone's Morgan in a drag for the hairpin with Sharp on the first lap.
Nothing much conclusive can be said about attrition rates on Sunday. Most DNFs were caused by damp ignition systems and drivers quitting after scaring their hair white.
please send me e-mail with any additional info on this or any other VIR race