VIR - 1959 May National Races
Road & Track magazine race report
Please send me e-mail with any additional info on this or any other VIR race
"VIRGINIA INTERNATIONAL RACEWAY"
August 1958 Road & Track magazine article by Jerome T. McNamara
For the fourth straight time in almost two years, the combination of Walt Hansgen and Lister-Jaguar captured an almost uncontested first place at VIR, in Danville, Va. With the exception of the track's inaugural race, when Carroll Shelby and a 4.5 Maserati blasted across the line ahead of him, Hansgen has had the feature events at the southern Virginia circuit all to himself. But, unlike some of his previous victories, this time he had competition worthy of the name.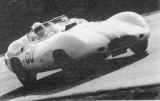 Time trials proved the Listers to be at, their best on a long circuit like the 3.2 mile VIR course. Hansgen set the pace with 2 minutes, 31.2 seconds from a standing start, a good average made even more impressive by his coming to a near stop at the first turn to close a door that wasn't latched. Don Sesslar who had neatly trounced Hansgen in the rain at Marlboro, won the second spot with 2 min 32 sec in his Porsche RSK. Third-best time went to Dick Thompson, in a Lister-Jag loaned him by Briggs Cunningham when the Sting Ray failed to arrive, with 2 min 34.3 sec. Fourth went to Roger Penske in a Porsche RS, driving for the first time on this circuit.
After a perfect day of warm sunshine on Saturday, the prayers of all concerned brought another bright day on Sunday and by the beginning of the first race a crowd of close to 10,000 was scattered over the 200-acre area.
Thirty-seven cars in classes F, G, H, and I production stretched out down the starting grid with the Porsches of Harry Blanchard, Tom Payne and Gene Hobbs holding down the first three places. In the first 2 laps Blanchard took a commanding lead only to run afoul of a Fiat-Abarth in the third, forcing him into the pits for repairs and a new tire. The lead was then taken over by Hobbs, followed by Payne and Bruce Jennings in Porsches. Fourth place was being held down by G. C. Lazar in another Porsche, with fifth going to Jim Eichenlaub in his beautiful red Osca.
Hobbs held the first place until the sixth lap when Bruce Jennings, having gotten around Payne and into second, took him and captured the lead. Jennings held the lead to the finish but was sharply contested all the way by Hobbs, with Payne only a length further back in third. Unfortunately Payne dropped out only four laps from the finish and was replaced by Lazar in third for a three-place win by Porsches. Meanwhile Eichenlaub continued to outdistance the rest of his class but was being constantly pushed by C. A. Stoddard in an Alfa. Briggs Cunningham in. the meantime worked his way from 10th place with his Osca to threaten them both and on the 16th managed to pass Stoddard. Eichenlaub was not to be caught though, and stayed far enough ahead to finish fourth to Cunningham's fifth.
The second race, for B, C, D and E production, saw Jim Jeffords winning in his purple Corvette with Roy Tuerke in another Corvette second, Ed Welch third in an AC-Bristol, Bob Grossman fourth in a Ferrari GT coupe, and Pierre Mion fifth in another AC-Bristol.
At the start of the 40-lap feature race Hansgen got off to a slow start and Windridge's 5.5 liters took him into first with Sesslar hot on his tail. When they appeared again it was apparent that Hansgen's lapse had been only momentary: he was now in second and pushing the Windridge Lister.
Windridge proceeded to better Hansgen's Saturday time by 4 sec but even this wasn't enough, for on the next lap Hansgen had the lead. By the fifth lap the first four cars, Hansgen, Windridge, Sesslar and Thompson, were fast leaving the rest of the cars behind. Farther back in fifth and sixth were the Penske and Newt Davis Porsches, followed by the Connell Ferrari.
Windridge held on to second for 3 more laps and then relinquished this position to Sesslar as the Lister began to sound sick. From this point on, the battle between Hansgen and Sesslar settled down to a steady grind with Sesslar several lengths behind the Lister, the Porsche driver biding his time and doing a wonderful job keeping on Hansgen's tail. By the 15th lap the two of them had passed all but the first four cars, both turning in 2 min 27 sec laps. Thompson had moved around the ailing Windridge car which was still gamely holding on; both of them were almost 1/4 mile behind. Davis had dropped out with engine trouble and Connell had moved up to challenge Penske for fifth; on the 16th lap he managed to take the Porsche, moving Penske back into sixth.
The first break in the parade came on the 22nd lap, when Thompson was forced into the pits. For several laps he had been having trouble with a broken exhaust pipe which was blowing carbon monoxide fumes into the cockpit. After quick repairs Briggs Cunningham took over the car and went back into the race a lap behind the leaders.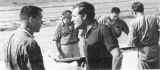 Thompson and Cunningham confer
Windridge now held third but was almost a full minute behind the front-running cars. The Connell Ferrari was in fourth, closely tailed by Penske, with Art Tweedale, Dr. M. R. J. Wyllie, and Frank Baptista a lap behind.
On the 32nd lap Sesslar decided to make his play for the No. 1 spot and began to move up on Hansgen. At the time he was running some 12 sec behind but in 5 laps he chopped this down to only 2.5, averaging 80.6 mph. Just when it looked as though he might give Hansgen some real trouble, he ran out of gas! Luckily he was able to make the pits and set a new record for refueling, but he had lost his chance. At the finish it was Hansgen, Sesslar, Windridge (just barely able to finish due to magneto trouble), Connell, Penske, and Tweedale.
Hansgen's victory was deserved, but was won on a course that is made for the big cars. It appears that as the season progresses and racing moves to the shorter and tighter circuits, competition will become more rugged for the Lister-Jag. The Scarab, in the hands of Jim Jeffords, and the Lister-Chevy, driven by Fred Windridge, are to be reckoned with and Sesslar is not likely to repeat his fuel mistake again. It should be an interesting season on the East Coast.
Click on Photos for larger versions.
Please send me e-mail with any additional info on this or any other VIR race