VIR - 1959 May - Race Photos - Newspaper
Virginia International Raceway - May 2-3, 1959
Danville Bee - Monday, May 4, 1959
Virginia International Raceway Affords Action
The VIR Shrine Sports Car Races yesterday provided a full afternoon of close competition as related in this pictorial report. [click on an image for a larger version]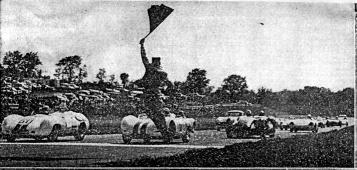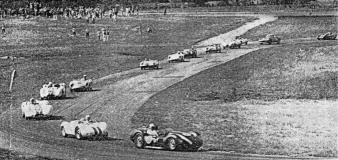 TOP LEFT- Starter Tex Hopkins leaps into the air as he signals the start of the 128-mile finale On the front row are Walter Hansgen (No. 60), who won his fourth successive feature race at VIR, and Don Sesslar, who gave Hansgen a fight all the way in a Porsche RSK (No. 74).
TOP RIGHT- On the first lap, Fred Windridge in the black Lister-Corvette leads the pack into a curve, although pursued closely by Sesslar, Hansgen, Dick Thompson, in a Lister-Jaguar (No. 61) and G. C. Lazar (No. 6) in a Porsche. Windridge lost the lead on the fourth lap and Thompson yielded the wheel to Briggs Cunningham when he became dizzy because of gas fumes.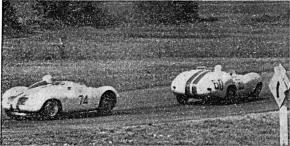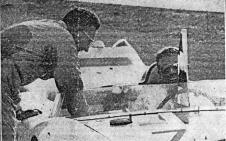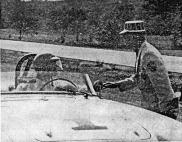 MIDDLE ROW LEFT- That's the way it was most of the feature race - Sesslar hanging close to Hansgen's tail light. Sesslar ran out of gas on the last lap, just as it appeared he would gamble for the lead.
MIDDLE ROW CENTER- Hansgen jibes Sesslar as the latter limps into the pit, out of gas, but with a first-in-class victory just the same.
MIDDLE ROW RIGHT- Jim Jeffords of Milwaukee is congratulated by Hopkins after making a run-away of the second race in his purple Corvette. Jeffords was national champion in his class last year and is on his way to repeating.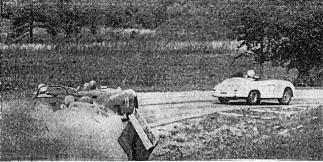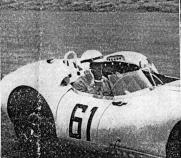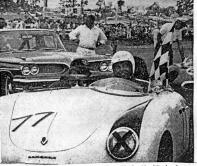 BOTTOM LEFT-The best race of all was the first, in which a pack of Porsches battled like dogs and cats. After Harry Blanchard went out with a flat tire, Bruce Jennings (No. 77) managed to nose out Gene Hobbs (No., 56) at extreme left, And G. C. Lazar (No. 277), shown hitting a shoulder. Tom Payne (No. 13) was in contention until he ran out of oil.
BOTTOM CENTER- Briggs Cunningham, who owns the Lister-Jaguars, takes the wheel of No. 61 after Thompson pulled into the pit dizzy from gas fumes. Despite the lost time, he came in third in class.
BOTTOM RIGHT - Bruce Jennings clings to his victory flag and displays a winner's smile after capturing the first event.